Dr. Joan Greco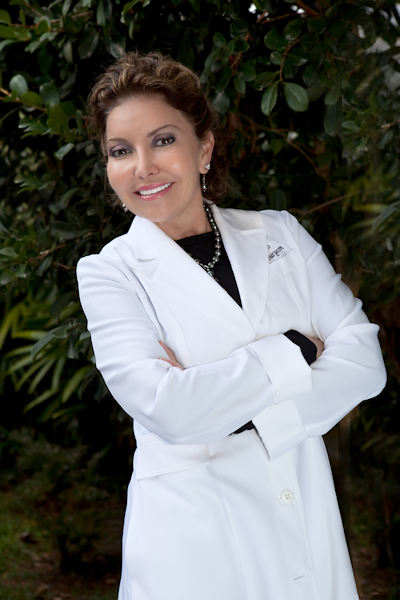 When Dr. Joan Greco made the decision to move to Hawai'i Island in 1993, she says she was met with aloha, and it has only gotten better from there.
Dr. Greco is an oral and facial cosmetic surgeon – she's known as the surgeon with a delicate touch. She loves what she does, and hopes to be doing it long beyond retirement age. Dr. Greco was inspired by her father, Dr. Victor Greco, one of the surgeons who invented and developed the first heart/lung machine, allowing the bypass of blood from the heart during surgery, which then allows safe surgery on the heart and vessels. Her father was not only an outstanding surgeon, he was also an amazing businessman. She says she always wanted to be a surgeon just like her dad.
Dr. Greco started out as a nurse (neo – natal and pediatric ICU), which helped her work her way through dental school. She also graduated from the Wharton School of Finance at the University of Pennsylvania, with a triple major. She did her undergraduate prerequisites at Texas A&M University then Dental School at University of Texas Health Science Center in San Antonio. By the time she finished dental school she had published 11 papers in their referred journals and had given as many presentations at the national and international meetings. She wanted to specialize in children with facial deformities. One of the routes was through dentistry with a specialization in oral and maxillofacial surgery (OMFS). Oral surgery education programs only take the top one – to – two percent in the class, and being a woman made it statistically even more difficult to qualify. (Of the practicing 6,500+ oral surgeons, less than 150 are female.) She graduated from the top ranked program in the country for OMFS – Louisiana State University at New Orleans.
Her training was in the Charity Hospital system, and she says, "It was amazing! Every day was an amazing challenge – with little sleep and so much surgery to do. I realized I had a finite time to learn everything I would need to know to prepare myself to be successful in private practice. In my chief residency year, I realized facial cosmetic surgery was a real part of the specialty and I began finding my patients and doing the surgeries. I came out of my program completing more cosmetic cases than my plastic surgery counterparts. I was well – equipped the day I started my practice here in Kona in July, 1994."
Dr. Greco has three offices on Hawai'i Island. "I have patients who are referred from all over the island. I thought it was wiser to have two cars (mine and Julio's, my nurse of 22 years) on the road than many cars with patients having to come see me. Besides, it clears my mind at the start and end of my days to drive back and forth." Dr. Greco specializes in helping anyone that she can make feel better from the neck up. She enjoys being able to serve the residents of Hawai'i Island. She says, "I love what I do and I don't see that changing."
In regards to managing her staff, she says she's "friendly, firm, and fair". I offer lots of education and try to get my employees to a much better place than where they start. I send staff, and myself, for continuing education. I generously bonus my staff and I give back to the community. It is not unusual for me to do free services for patients in need – all I ask in return is for them to 'pay it forward' with random acts of kindness."
The JM Greco Foundation
Dr. Greco established the JM Greco Foundation in 2015 to help local students who are pursuing medical and dental field careers. The JM Greco Foundation is constructing a center for female empowerment and is in the planning stages at this time.
Read more about Dr. Greco's Foundation work at openwidefoundation.org/dr-joan-greco/.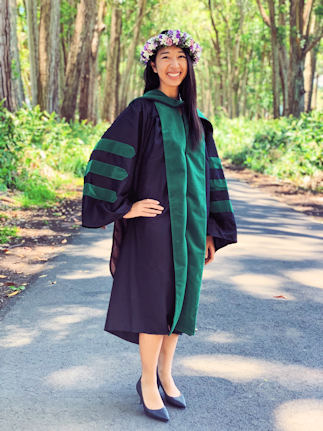 JM Greco Foundation Recipient
Dr. Katie Ho – 2020 Graduate of Tuft University , School of Medicine
Degree: Doctor of Medicine
We are so proud of her!
Dr. Azin Sayah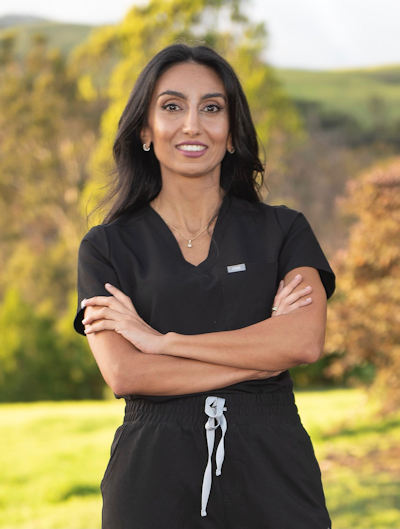 Dr. Azin Sayah was born and raised in the outskirts of the nation's capital, Washington D.C. She graduated from the University of Virginia with a bachelor's degree in Economics and pursued a corporate career in the Big Apple, New York City. While she was very successful in her business career she noticed how much more meaningful life was for some of her family members who were physicians. So she returned to her true calling, medicine. She completed studies[a1] in the Biomedical Sciences followed by dental training at Virginia Commonwealth University in Richmond, VA where she completed her Doctorate of Dental Surgery (DDS). From the very onset of dental school, Dr. Sayah was always drawn to the most complex cases in oral and facial care. The desire to be an outstanding oral surgeon preceded everything else and always guided her dental training. She soon completed a 1-year oral & maxillofacial surgery internship followed by completion of surgical training at Christiana Care Oral & Maxillofacial Surgery in Wilmington, Delaware where she was Chief Resident.
Her clinical interests include dentoalveolar surgery, implantology, maxillofacial trauma, and pathology. Her training has given her extensive expertise in bone grafting, orthognathic surgery, temporomandibular joint disorders, and anesthesia. Her treatment approach is to relieve patient anxiety, thoroughly discuss treatment options, and work seamlessly with her team to provide patients with the most innovative and effective care and treatment. Her personal goal is to help her patients smile confidently by relieving oral and dental related pain, tension, and discomfort. Dr. Sayah is an expert in the structure of the head and neck and in helping patients achieve improved function. She finds the entire range of patient cases from hospital emergencies to long term treatment plans and surgery extremely rewarding. She is very excited to join her new team and to serve her new community in Hawai'i. Coming from a very diverse background and multicultural family, Dr. Sayah is thrilled to immerse herself in the culture of Hawaii. She wants to learn about the people and traditions of Hawaii so that she can provide the best care combined with the utmost compassion and understanding. When she's not working, Dr. Sayah enjoys spending time with family and friends, playing classical piano, hiking, and traveling off the beaten path. She is a big soccer fan and also hopes to develop her surfing skills as a new resident of Hawai'i!