Take years off your skin's appearance with safe and effective Sublative Rejuvenation treatments. With the unique power of the elōs laser system, we can safely and comfortably fade skin imperfections caused from the sun, and uneven skin tones caused by brown and red spots. The treatment is also effective on rosacea, freckles, spider veins, age and sunspots.
Sublative Rejuvenation is clinically proven to treat fine lines, wrinkles and acne scars, provide skin tightening and even out textural irregularities caused by excessive sun and environmental exposures.
With little to no downtime post-treatment, patients can return to regular activities following treatment.
Sublative Rejuvenation is the "all-natural" approach to enhancing your youthfulness. Unlike other non-aggressive cosmetic treatments such as Botox, fillers, or chemical peels, laser skin rejuvenation works from the inside out by stimulating cell regrowth. Thus laser skin treatments last longer and can be further enhanced with yearly maintenance treatments.
A full-face treatment session takes less than 20 minutes.
Proven safe and effective on ALL skin types and degrees of pigmentation.
Finally you can rid yourself of troublesome hair, even in areas that are difficult to deal with. Achieving beautiful, silky smooth skin is now easier than ever before.
Call 808-885-9000 for an appointment today!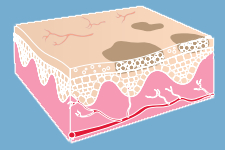 Skin Before Laser Treatment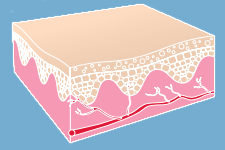 Skin After Laser Treatment
How does skin rejuvenation work?
Controlled, fractional RF energy is effectively placed into the skin dermis where it can produce significant dermal impact with minimal epidermal disruption. Using the combined bi-polar radio frequency and light energies of elōs technology, we can precisely and safely target pigmented lesions such as freckles, sun spots and age spots. Vascular lesions such as spider viens and redness from rosacea are also lightened and will gradually fade.
Will laser skin rejuvenation treatments work for me?
Because of the unique characteristics of the elōs laser, we can treat most skin types and most conditions that cause uneven skin tones to give you a youthful, smooth appearance to your skin.
Will it hurt?
You should not feel any pain because of the way the skin surface is cooled during treatment and the way the energy is delivered through the skin. However, patients with very sensitive skin can receive topical anesthetics for patient comfort. This clinically proven procedure, which has been approved by the FDA, will deliver effective results with minimal downtime. This 'no downtime' method means you won't have to "hide" from people after treatment and can even return to your normal activities immediately afterwards.
How fast can I expect to see results?
Gradual,  cumulative improvement of your skins tone is often achieved in 5 to 6 treatment sessions. The total number of required treatment sessions depends on your skin's condition. Schedule a consultation to establish your personalized treatment schedule
How much does laser skin resurfacing cost?
Treatment costs vary depending on what areas we are treating, and how many treatments are required. For a good idea on your investment in skin rejuvenation, call our specialists at 808.885.9000 or drop us an email.