Dr. Greco offers safe, effective and gentle laser hair removal procedures that will stop your unwanted hair growth. With the state of the art elōs laser system, we can effectively remove hair from all body areas including the upper lip, cheeks, chin, neck, breasts, stomach, arms, armpits, shoulders, bikini area, legs and back.
Works on all hair colors and types, on all skin tones.
Gentle and safe for sensitive areas like the underarm and bikini area.
Offers effective and permanent reduction of hair.
Most people require only 5 to 6 treatments.
Finally you can rid yourself of troublesome hair, even in areas that are difficult to deal with. Achieving beautiful, silky smooth skin is easier than ever before.
Call for an appointment today!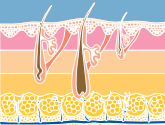 Skin Before Hair Removal
Skin After Hair Removal
Laser Hair Treatment Q & A
How does laser hair removal work?
The special Elōs laser with its combination of bi-polar radio frequency and light energies enables staff to precisely target and destroy hair follicles. This method packs a one-two punch that is especially effective for removing body hair.
Will laser hair removal treatments work for me?
Men and women can both achieve permanent hair reduction on almost all body areas. Our elōs laser system is more effective than other models for removing lighter colored hair than others. Light colored hair may require more treatments than darker hair colors which tend to absorb the laser energy better.
How fast does it work?
You'll see results immediately after each treatment. The total number of treatments required, however, is based on your skin tone, hair color and the body area we're working on. We have found that the average number of treatments to achieve complete results is 5 to 6.
What does laser hair removal cost?
Treatment costs vary depending on what areas we are treating, and how many treatments are required. For an idea on how much it may cost to permanently remove your unwanted hair, call our specialists at 808-885-9000 or drop us an email.